Fall Foliage Event Winners Listed for 2018
| | |
| --- | --- |
| 05:44PM / Tuesday, October 16, 2018 | |
---
NORTH ADAMS, Mass. — The annual Fall Foliage Festival offered up a host of activities this year, including parades and leaf hunts and hot dog eating contests to celebrate the "Year of the Dog."
Drew Burdick, Zack Soha and Dan Dougherty downed 30 Jack's hot dogs in less than 10 minutes to win the Hot Dog Eating Contest at the first annual Brew & Chew on Main Street the day before the parade.
The MountainOne crew beat out a dozen other teams that all together raised some $2,500 for PopCares Inc.
Also on that Saturday before the main parade, the 8th annual Fall Foliage Dog Parade featured more than two dozen pups decked out in their finest costumes padding down Main Street to the dog park on River Street. The event raised $75 for the Berkshire Humane Society. Gifts were presented to the dogs winning in each category. The winners were: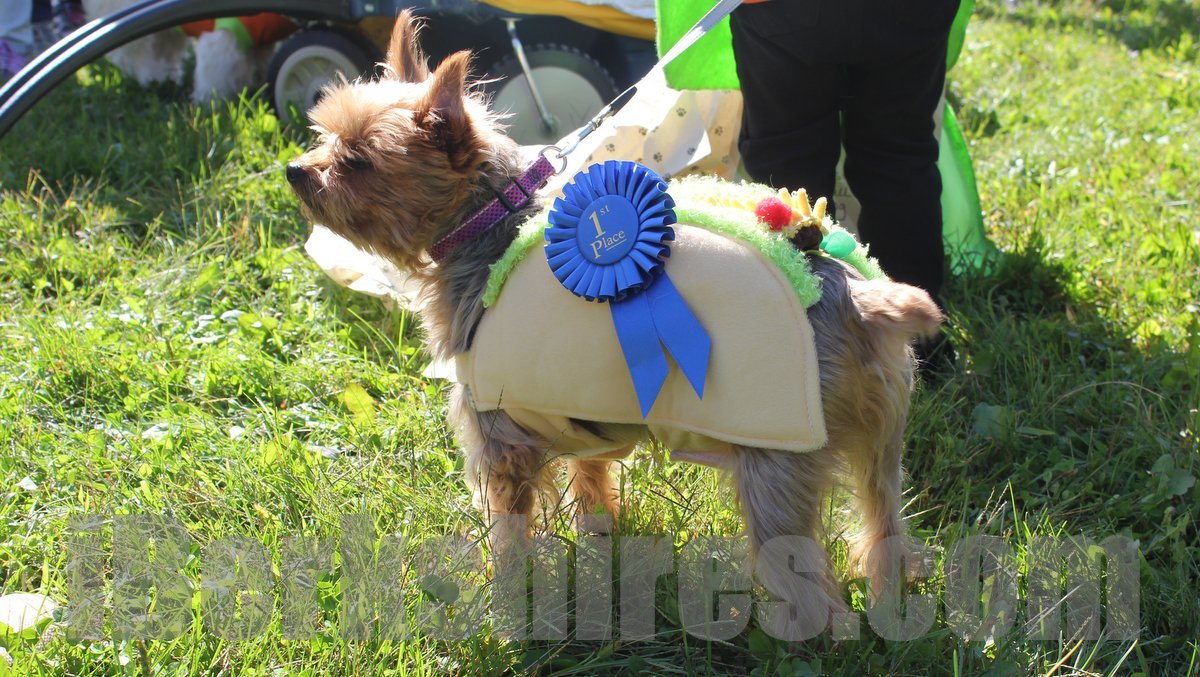 Best Group:
"Kissing Booth," Olive, Brady and Duke and owner Jen McCue.
Best Duo: "Chinese Calendar"with Dexter and the Reynolds family
Funniest: Two pugs dressed as Kermit and Miss Piggy and owned by Jill
Best Small Dog: "We Know Guac is Extra" with Rigby the yorkie/chichi mix dressed as a taco and owners Amy Mendes and kids
Best Medium Dog: Tony Barbiero and his Sheltie, Mr. Bojangles, dressed as a skunk
Best Large Dog: Shanah Miner with Gulik the Labrador as a bratwurst
Best Float: Jersey and the Reynolds Family as "Pucker Up with the Pitbull in the Pagoda"
There was a lot of interest this year in the annual Leaf Hunt, say organizers. The clues lead leaf hunters to landmarks around North County and each leaf discovered earned a prize. There was also an invisible leaf hunt for which people could mail in the answers. Only two of the 20 leaves were not found this year.
The Northern Berkshire Fall Foliage Festival Leaf Hunt Committee has announced that this year's hunt has concluded. All searchers and sponsors are thanked for their participation. In keeping with this year's theme, the Chinese Year of the Dog, results are as follows:
1. Former K9#: Reservoir Road Dog Pound by Alyse Koloc, North Adams
2. Current K9#: Hodges Cross Road City Pound by Batista Bartlett, North Adams
3. Longest vehicles, shortest exhibition: Museum of Dog, Union and Canal streets, by Sarah Czarnecki, North Adams
4. Dr. Malnati's bailiwick: Greylock Animal Hospital, 1028 State Road, by Nathan Samson, Adams
5. Linked_In for man's best friend: Canine Connection, 1613 South State Road, Cheshire, by Micaela Biagini, Pittsfield
6. Mother Town Cares: Adams Veterinary Clinic 83 Summer St. by Sara Luczynski, North Adams
7. 1878 Breakaway Cares: North County Veterinary Hospital, 838 Curran Highway, by Holly Sumner, Florida
8. Woof and Meow: Bark N' Cat, 28 Holden, found but unclaimed
9. Mani-pedi not for the birds: Pooches Pet Grooming, 145 Eagle St., by Barbara Dow, Adams
10. N42.69516, W73.03485: Florida Volunteer Fire Department, by Abbi Luczynski, Florida
11. N42.71765, W73.08460: Clarksburg Volunteer Fire Department. by Jeff Brassard, Adams
12. N42.56117, W73.16592: Cheshire Volunteer Fire Department. by John Bresett, Adams
13. Pets of the Pioneers Wag'n Tails 147 State St. by Katie Hooks, North Adams
14. Northeast Asian peaceful spot Korean Garden Ashland St. by Kyle Clairmont, North Adams
15. Menu Expansion Near Grazie's: Meng's, Main Street, unclaimed
16. More modern than its 1745 neighbor: Oriental Buffet, 245 State Road, by Anne Sulzmann
17. Everyone's first piano tune: Chopsticks, 412 Main St., Williamstown, by Annette Czarnecki, Williamstown
18. From Southeast Asian plot to Cerulean Drupe: Thai Garden-Blue Mango, Spring Street, Williamstown by Alana Dubie, Stamford, Vt.
19. Not the Confederate Family: Lee's Dynasty, Columbia Street, Adams, by Jess Conkling, Lee
20. Not Jack's: Hot Dog Ranch, 318 State St., by Maggie Sulzmann, North Adams
Of the invisible clues, all were solved correctly by Dale Cookis of North Adams. The sentences read:
1. Back in the 1950s to see Asta and Lassie in the Village Beautiful you went to the Walden, in the Mother Town to the Adams Theatre or the Hoosac Drive-in, in the Tunnel City to the Mohawk, Paramount or Coury's Drive-in.
2. Black and white spotted mascots often ride atop their vehicles. They are in Adams the Alert Hose Company, in North Adams the North Adams Fire Department and in Williamstown the Gale Hose Company.
3. In 1955, we had few Chinese restaurants to celebrate the Year of the Dog but we did have a Chinese business on Historic Eagle Street — Charlie Sam Laundry at No. 38 — and a famous Chinese American horticulturist who had lived in North Adams almost a century before: Lue Gim Gong.
The above-mentioned winners received prizes generously donated by Wild Oats, Walmart, Pedrin's Dairy Bar, North Adams Museum of History and Science, Chee's Restaurant, Freight Yard Pub, Boston Seafoods, Desperados, Big Y and North Adams MoviePlex 8. Special thanks are extended to Pedrin's for serving as our leaf redemption center this year.